Little Miss Layla has been in my life for almost 4 years now... and in J's for over 2... She wasnt always the sweet angel she is now. There were days in the first year or two that I wasnt sure I she was going to make it. I thought that I was a terrible puppy parent and that I was doing it all wrong. But it was like one day I woke up and she was all of a sudden listening, behaving and a perfect little child. Now I use the word perfect loosely here... we still have our moments. I just realized I had an energetic, stubborn little one on my hands... Sound familiar? Bless my little heart when J & I have children. ::FRIDGE FACE! if you dont know what this is.. I may share the photo with you someday... lets just say I was/am full of all kinds of attitude::
When J and I first started dating I was living at home and when we would have crazy weekends, and I wasnt coming home, I felt bad about leaving her for my parents to watch.. and thought my dad's threats of "leaving the gate open" might come true. So I started bringing Layla out to stay at Jarrett's. Its like introducing your child to your new boy. Little did I know J didnt let dogs sleep in his bed, Layla did. J didnt allow dogs on furniture, Layla did. J didnt like cuddling/touching/being licked... Layla did all of the above! For our first Christmas one of my gifts was really a gift for Layla... So I knew we were in.
To make this looooong back story a bit shorter... we are thankful for Miss Layla..
How could you not love this face?!
She is quite the cuddler.. always has been & I certainly dont see that changing anytime soon...
She's 4! How Time flies! Shes always a good sport on her birthday..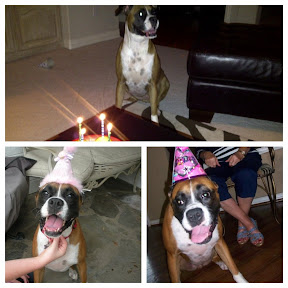 She loves playing in the hose water "helping" Dad water during the summer... apparently she's a super hero... Shes always getting into trouble... and she has a touch of crazy in her...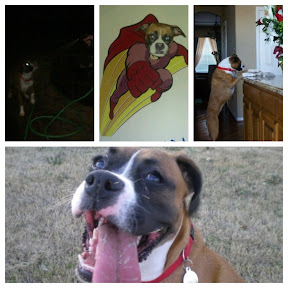 She's a sleeper... and a bed/couch hog as you can see!
But most importantly, she is our daughter... good and bad we love love love her.
Layla: Layla Love, Lalya Bean, LaLa, Booger, Boogs, mama, or Jarrett's favorite - Shit Brick. Reeeaaallll nice!
We are so Thankful for our little puppy daughter, and cannot imagine life without her... What are you Thankful for?