Okay... so maybe I have a few problems... but today we will discuss my shoe problems...
Admitting is the first step, right? I have had a shoe problem for a looooong time. Ask Scotty Potty about how shoes spoke to me while I was in college.. HA!
I have been a good girl lately... no new shoes since wedding time... thats almost been SIX FREAKIN MONTHS! thats a waaaaay good girl for me! Today, I ventured into DSW waiting for a book to be pulled at Barnes and Noble... and well... I fell in love multiple times.... YOWZAS!
Do these not scream fall?! And sreaming for a cute dress and tights?! Oh please!
Cutie Booties! (J dislikes... but I want!)
Must have!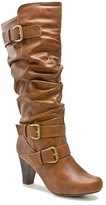 These Riding Boots are adorable!
What Texas girl doesnt need another pair of these???
These particularly jumped out at me... they asked "Can I please be your date to a Christmas Party" I say yes.... now, J?!
Now these are my obsession... I own them already... this is our closet... But there is something missing, dont you think?
Ah yes! This will complete the trifecta... plus the fact that I cant find a picture online tells me I need to jump at this pair ASAP!
I plan to get these one by one... starting with the last, most important pair... Michael Kors you sing to me!