Much to your surprise, as well as my own, J proclaimed he likes Stroganoff. In my mind, all I could think was "one of the main ingredients of stroganoff is mushrooms, J must be sick"...
I cannot remember ever having stroganoff, and as I'm on a mission to perfect my slow cooker skills this winter, I set off looking for a recipe for my hubs apparent "childhood fav" ....
After talking with my sweet mother in law about my mission, she let me in on a

little secret

, the hubs "fav" was actually hamburger helper... I love it!
I could have just made the hamburger helper and put it in the crock pot (J claims anything out of the crock pot is good) and called it a day, but you all know me better than that! I had already zeroed in on my mission.
So I found this recipe on
Recipegirl.com
...
Ingredients:
1 1/2 pounds beef chuck steak, trimmed & cut into 1/2-inch cubes
1 pound sliced cremini mushrooms
2 small onions, finely chopped
2 Tablespoons tomato paste
1 cup low-sodium beef broth
1/2 cup white wine
4 Tablespoons low-sodium soy sauce, divided
1 cup reduced-fat sour cream
2 Tablespoons cornstarch
1/4 teaspoon black pepper
cooked egg noodles, whole wheat pasta or rice, for serving
chopped Italian parsley, for garnish (optional)
Directions:
1. Combine beef, mushrooms, onions, tomato paste, broth, wine and 3 Tablespoons soy sauce in the bowl of a slow cooker. Cover and cook on HIGH for 4 hours or on LOW for 6 hours, or until beef is tender.
2. In a small bowl, stir together sour cream, remaining 1 Tablespoon soy sauce, cornstarch and black pepper; whisk into the hot meat mixture and cook an additional 30 minutes or until sauce has thickened slightly. Serve over pasta or rice and garnish with parsley, if using.
The verdict: Hubs enjoyed, I personally enjoyed the noodles.. I think the Hamburger Helper version will be the only one made in our house moving forward... But as you can see below

(J going for more after cleaning his plate),

that opinion may be one-sided by this girl.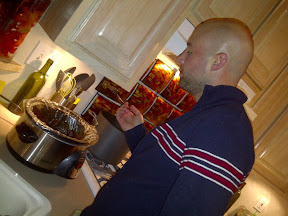 Do you have a "try worthy" recipe??