Wedding Wednesday: J&J Wedding Day!!!!
I havent done a "Wedding Wednesday" since, well, not long after our wedding... But J&J's day has come & gone soooo quickly! And a Wedding Wednesday was definitely in order!
Everything came together and turned out so beautifully. I am so so proud of Jordan - her creativity and how calm she was on the day of. I'll wait to get sappy until the end of this post.
Enjoy the photos!
Friday:
We started the wedding weekend with a fabulous bridal luncheon hosted by JoJo at Gather in McKinney. Saying that this venue was a perfect location, doesnt even tell you how great it was.
That evening we were headed to the ceremony venue for rehearsals. (I love Justin's face in this pic! I think he's excited!)
Bridal party
Rehearsal Dinner at Cafe Malaga (SO delish!)
Operation: Become Sisters - So close to be accomplished! I loooove her!
The ladies & gentlemen
I adore this man
After the rehearsal dinner, we headed to the hotel and watched the Rangers game and continued our celebration!
Saturday:
In the morning JoJo and I headed to the venue and started setting things up. I cant tell you how many times I got the chills. It was just so perfect, and everything that JoJo had talked about wanting. It was so exciting. We met the other ladies for breakfast and then we all came to the venue before hitting up the spa.
Details, Details....
Then it was off to the salon to get beautified and all put together!
JoJo took photos in Marianne's dress. (30 years vintage!) The dress fit her perfectly, and is such a special moment to have!
And we are all set to go!
After some photos, it was "go" time!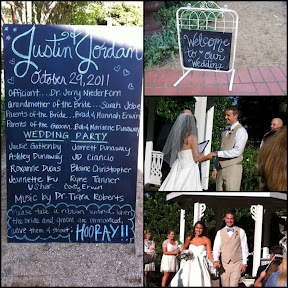 JA
Our transportation to the reception! Beautiful Bridesmaids. Sassy Pants Bride. & we cant leave out my amazing parents!
Its official!!! SISTERS!!!!!!!!!!!!!!! :):):)
Group shot! Cannot wait to see the real photos!
Reception here we come!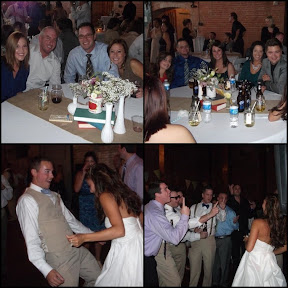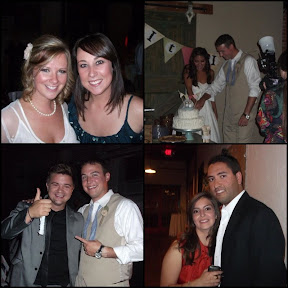 I love this idea. Such a great keepsake!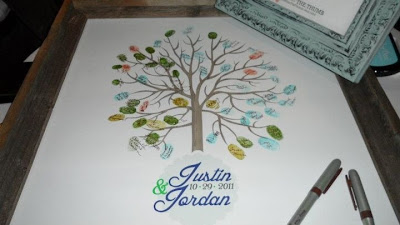 Bobby & I definitely cut a rug out there! Love my in-laws!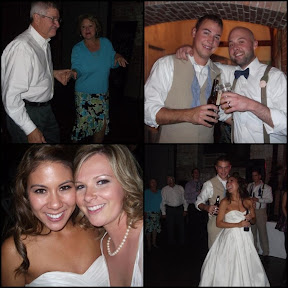 Cutie Husband making his best man speech.
I maaaay have played wedding planner at the end of the night and snuck a peak of their private dance... shhhhhh dont tell!
J&I hitched a ride home with friends... we maaaaaay have been locked out of our house for over an hour. Scaling fences, changing in the backyard, and eating pizza, could possibly have been how we ended our night along with dying laughing :)
J&I are so so so lucky to have J&J and to have been a part of their special day. We cant wait to have our kids grow together, take vacations together, and well just have best friends that we are sure will be around for every step of the way.
The wedding was just perfect. I dont think they could have asked for more. Beautiful weather. Amazing venues. Perfect details. Great guests. Lots of dancing. In my opinion its all you need.
And as you all have seen from my wedding and JoJo's wedding.. we need to start a business. Now all we need to do is figure out a name.... all J has still come up with is Modern Doily... not quite sold on it, but we will keep our wheels spinning.
Mr & Mrs Justin Dunaway - Here's to yall! We love you guys!!!